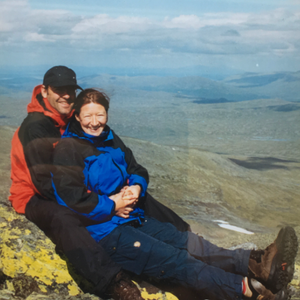 Jens proposed to me on the mountain hike in the region of Jämtland in the north of Sweden. After days of walking, eating, putting up the tent and sleeping, waking up, eating, walking…our minds had entered into that state when you don't think about anything serious at all. It's pure calmness, centered, focused and nothing else seems to matter other than the scenery and putting one foot in front of another. 
That state of mind also opens up the soul and one's heart. With perfect timing, not on the mountain top, not somewhere spectacular, just sitting there having a coffee in the sunshine, Jens it's drew me close and softly spoke the words: Will you marry me? 
We've often joked about those words afterwards. Jens was of the opinion that I'd misheard him and that he'd really meant to ask: Will you carry me? Seeing as we were hiking and all… ha ha! 
But of course I said yes! Yes yes yes with all my heart. And all these years later he's still my partner, my fellow musician, my best friend and lover. 
When we came back from the hike we were welcomed by a friend of my family who lived in Östersund, not far from said mountains. When Gunnel heard of our engagement she and her daughter spontaneously burst out in song, an old folklore tune sung at weddings which had also become a song of the  region Jämtland. At the end of the song we all had tears in our eyes - it was such an intense and special moment.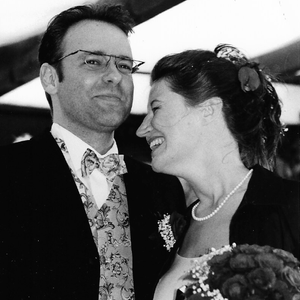 One year later we had the John C Marshall band play just that song at our wedding as I rode on horseback towards the congregation. It was kitschy, I know, but people cried then too. 
Enjoy 'Jämtländsk Brudmarsch' which translates into 'Wedding march from Jamtland'.
If you want to download it, here's the link: https://piafridhill.com/track/798671/jamtlandsk-brudmarsch