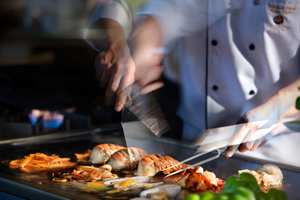 (by Pia Fridhill) For 'Soul Cooking' I spent many months collecting lines, rhymes and phrases about our two favourite occupations: cooking and music. I thought it would be a fitting theme for a funky song and I had this idea that I wanted to use the lyrics as a rhythm generator, placing the syllables in a meter that accentuated the rhythm. I'd never done that before and I took on the challenge of finding good lines while doing all sort of stuff: while driving my car drumming the steering wheel, while walking my dearest companion Emma through the forest and sometimes even while chopping vegetables for some tasty dish in the kitchen.

In the summer of 2015 we went to Sweden to see my family in the archipelago of Blekinge. My sisters family spends their entire summer holidays on their boat so we had their whole house to ourselves - or so we thought! After only three days of blissful jamming and writing new songs together - Jens on the guitar, me on bass and stomp box trying to play, stomp and sing different rhythms simultaneously - my sisters noisy family arrived home due to my niece having taken ill, which is not a nice thing on a crowded little boat. With the house now full of dogs, cats, kids, activity and nowhere to withdraw the days of songwriting were over. By that time however, we'd already gotten most of the scattered puzzle pieces of 'Soul Cooking' together AND thrown ideas for two other songs out there. God knows how productive we would have been if we'd been alone for two whole weeks!?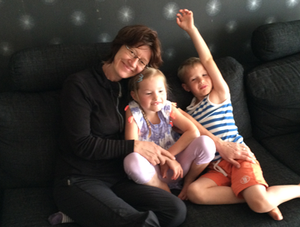 While we happily played our new music to my beloved family, my niece (8) and nephew (6), both having barely started to learn to play the violin and the trumpet, saw their opportunity of a lifetime to jam together with aunty Pia and uncle Jens. I really love them both to death but having a trumpet blown directly into one's ear at arm's length and a screetchy violin next to it while you're trying to concentrate on your music can really drive you mad! It was hard not to ask them to get the hell out and give us some space, but rather to encourage them to keep playing and practising. It went down something like this: "screeeetchy-screetch-eee" and "toroooht-to-brooööh-trooooo" - "how nice you play, yeah, keep that tone high, really high, go on!". It's been two years since and both of them have gotten really good at playing and, what is most important, they LOVE playing music, really LOVE it!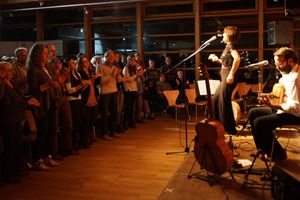 In March 2016 we invited our musician friend and songwriter Jupp Götz to play with us in my concert series "fridhill & friends". The guest plays one set alone, we play half of the next set with the band and then invite our guest back onstage or a couple of jam session numbers. 'Soul Cooking' was perfect for a funky jam session and it was "almost finished" anyway. Jupp sings beautiful backing vocals while playing the cajon and while we rehearsed the song he came up with the catchy line "get ready for the music, ready for the music" as an answer to the initial "Soul cooking" refrain line. His idea made the song what it is today, thank you Jupp! The audience reacted with standing ovations after the world premiere in Nettersheim so now we often use it as an encore.

The lyrics express the love for the Music, La Musica, the spiritual Godess that penetrates our soul with such joy and happiness: I'm diggin' the blues, diggin' the jazz, diggin' the rock and the bebop, I'm diggin the folk, I'm diggin' the ska, I'm diggin' the mambo, it's hot. All the components that we throw into the bowl to cook up some juice: triplets and backbeats, mix them, sugar it sweet - I'm the queen of the kitchen, queen of soul, I'm gonna spice it, slice it, dice it. Slip into the chorus and invite you to the 'Sooooouuul Cooking' - ready for the music! Enjoy it.