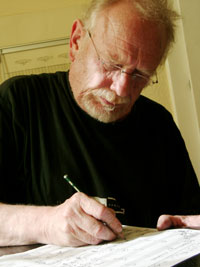 (by Pia Fridhill) The year 2002 was the beginning of our musical career, the beginning of our marriage and the beginning of our songwriting learning process. We'd met the British blues- & jazz veteran John C. Marshall, moved to Cologne (Germany) and started writing songs in our apartment under the roof. As we decided to record an album John was there to help us with all the stuff we didn't know anything about: how to write musical charts for the band so that they'd know what to play, when to play what and in what order.

Jens and I were green, beginners, amateurs. Amateur, from French amateur "one who loves, lover", one who has a taste for art but doesn't practice it - but now we started to learn and practice and John was our beloved mentor. To my Swedish ears he sometimes sounded like he bragged or exaggerated when he talked about "them times" when he used to play with Aretha Franklin, Ray Charles and Rosa King, so I never believed he did, until one day he sent me a YouTube-clip in which he played the lead guitar in Ray Charles's band - so that kinda shut me up. John knew what he was doing and he sure knew this beautiful, soulful Being called Music.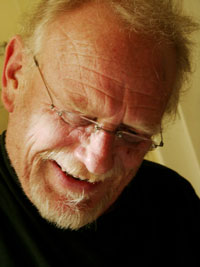 I remember him sitting at our breakfast table in the sunlight writing the chart for a new song that Jens claimed to have written in just five minutes, something which only happens when everything comes together in a perfect flow, as if the song already existed and you just had to listen hard enough to pull it out of the air. Jens called it "Breakfast On The Roof", a light summery pop song with a catchy refrain that he also sung the lead vocals on for a long time.

John, being a typical 70s R&B man, was writing a horn section arrangement for it. He always wrote notes and charts by hand and we saw something familiar with that handwriting so Jens asked him how he'd learned the "Real Jazz Book" typical handwriting by heart. John laughed and said: "I wrote the original Real Jazz Books, they carry my handwriting!". After that YouTube-video I now believe that story, too.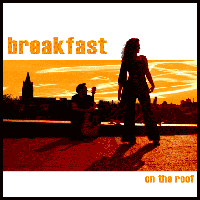 The album "Breakfast On The Roof" came out in the fall of 2002 and had some well known musicians on it: Xaver Fischer on Hammond, Wurlitzer and Rhodes, Jupp Götz on backing vocals and cajon, Max Schaaf on Bass, Nadja Schubert on tin whistle and John C. Marshall himself on guitars. The horn section hosted two dutch guys, Jos Wetzels on trumpet and Ruud Steegers on trombone, and also the wonderful saxophone player Ralf Bazzanella, or "Bazzer" as John used to called him. All in all, we were 10 people on the CD - that's a whole lotta love!

Of all songs that we wrote in the years to come, "Breakfast On The Roof" was the one that stuck out as the number one hit song. People even claimed to remember the refrain the morning after they'd heard us play it and that is a very good indication of a song's hit quality, I think. We jokingly tell our audience: "It's the most secret hit song ever written - it's been a hit for over 15 years!".

So we thought, why not? Let's record it again and see what happens. Stefan Michalke re-arranged the song, I sang the vocals this time and the whole thing was born again with a relaxed californa laid-back sound all the while keeping its original, 70s feel. Having spent 15 years playing in the smallest possible line-ups in order to keep costs down, perfecting the chamber music approach in which you're trying to make the most use of the few instruments at hand, Jens and I suddenly find ourselves back where we started - with a large band with a large sound! It's exhilirating and FUN to feel the power and hear the luxurious sound of a "real" band again. Enjoy the two versions here.
Embed for Breakfast On The Roof - Two Versions